Intact Genomics has developed and manufactured a variety of kits and enzymes useful for various cloning needs.  These include our propriatary Quick10™ and igFusion™ Cloning Kits as well as various other products useful for optimizing your molecular cloning workflow
---

Utilizing Intact Genomics Quick10™ Cloning kit, DNA/PCR product(s) can be assembled/transformed in 10 minutes vs. other seamless/fusion cloning, conventional T/A, or restriction ligation cloning and transformation methods that can take up to 2 hours or more.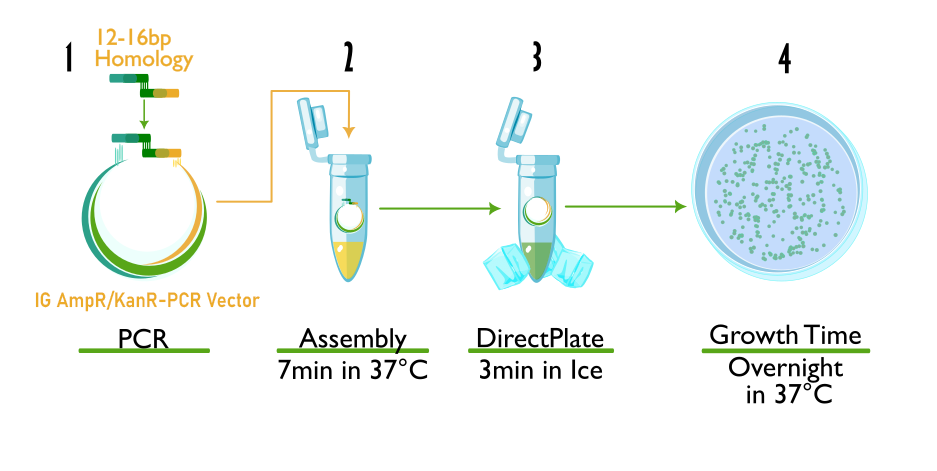 Combination of high fidelity PCR, assembly, and DirectPlate® transformation cloning technologies.
Combination of homologous assembly and ccdB selection(vs. T/A or restriction ligation methods) display <1% false-positive clones or nearly 100% cloning accuracy.
Assembled/transformed in 10 minutes. Less time and less effort spent on cloning, transformation, and positive clone screening/identification.
Streamlined cloning of one or two (<6 kb total) DNA fragments
Single PCR product cloning
Site directed mutagenesis
High throughput cloning
1)  5x Quick10-Assemble™ Premix
2)  Ig® AmpR/KanR-pCR vector
3)  Dilution buffer
4)  Directplate® XL DH10B competent cells (6×50 µl)
---
igFusion™ Cloning Kit
Intact Genomics propriety ig-Fusion™ cloning technology is a simple, rapid and highly efficient cloning kit which allows to directly clone any PCR product(s) to any linearized expression vector at any site. he kit is so robust that multiple DNA fragments can be assembled simultaneously and cloned into one construct in a single reaction step within short times (usually 10-30 min) with more than 95% cloning efficiency.  5x ig-Fusion™ enzyme premix also sold separately
●  Applications
Clone any insert at any site within any vector
Restriction enzyme and phosphatase free system
Joining multiple large fragments at once
Precise insertion at a desired orientation
Rapid and high efficiency with > 95% positive clones