Description
T4 gp32 Protein is a single-stranded DNA binding protein required for T4 DNA replication, recombination, and repair (1, 2).  It improves the efficiency of reverse transcriptase (RT) during RT-PCR (3), enhances T4 DNA polymerase activity (4), as well as increases the yield of PCR products (5).
Protein Purity
The physical purity of this enzyme is ≥99% as assessed by SDS-PAGE with Coomassie® blue staining (Fig. 1).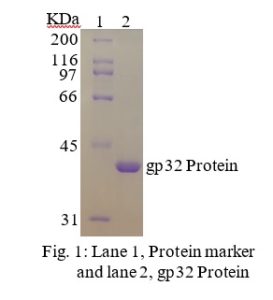 Product Source
coli BL21 (DE3) strain expressing T4 gp32 gene.
Product Includes
T4 gp32 protein
10X gp32 reaction buffer
1x GP 32 reaction buffer composition
20 mM Tris-acetate
100 mM Potassium acetate
10 mM Magnesium acetate
1 mM DTT
pH 7.8 @ 25ºC
Storage Buffer
50 mM Tris-HCl
50 mM KCl
1 mM DTT
0.1 mM EDTA
50% Glycerol
pH 7.5 @ 25ºC
Storage Temperature
–20ºC
Heat Inactivation
65°C for 20 min 
Quality Control assays
T4 gp32 protein is free from detectable nuclease activities.
References
Chase, J. W. and Williams, K. R. (1986) Ann. Rev. Biochem. 55, 103-136
Sinha, N. K. and Snustad, D. P. (1971) J. Mol. Biol. 62, 267-271.
Baugh, L.R. et al. (2001). Nucl. Acids Res. 29, e29.
Topal, M.D. and Sinha, N.K. (1983). J. Biol. Chem. 258, 12274-12279.
Schwartz, K. et al. (1990). Nucl. Acids Res. 18, 1079.
3512 3515