igTherapeutics™ Pharmaceutical Research and Development
Intact Genomics has developed two proprietary technologies: The Fungal Artificial Chromosome (FAC) and 100kb Large DNA Fragment technologies. Combining these two innovations, we created scalable platforms to unearth novel natural products and small molecular compounds from filamentous fungi, soil and other environmental microbiomes. Intact Genomics offers igTherapeutics™ pharmaceutical research and development services for third-parties.
Fungal Artificial Chromosome (FAC) 
Intact Genomics invented Fungal Artificial Chromosomes (U.S. Patent No. 10,337,019). Fungal artificial chromosome (FAC) vectors which can be replicated in a bacterial or a fungal host and can comprise an insert of heterologous DNA potentially up to 300-500 kilobases into a fungal host. Any insert sequence, regulatory elements, or genes of interested can be easily modified by homologous recombination. Fungal artificial chromosome (FAC) vectors also can be a plasmid comprising bacterial and fungal origins of replication, as well as bacterial and fungal selection marker genes. Additionally, the patent discloses the methods of generating plasmid libraries including vectors comprising intact SM gene clusters.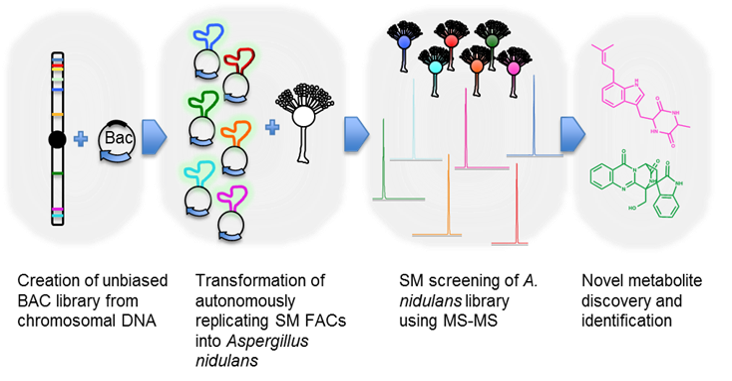 This proprietary technology can be used in large-scale drug discovery research, we also license this unique capability to other companies across pharmaceutical, agricultural and environmental sectors for scalable fungal natural product and small molecule compounds discovery and research.
If you are interested in our services/technologies or seek partnerships, please contact us at sales@intactgenomics.com.