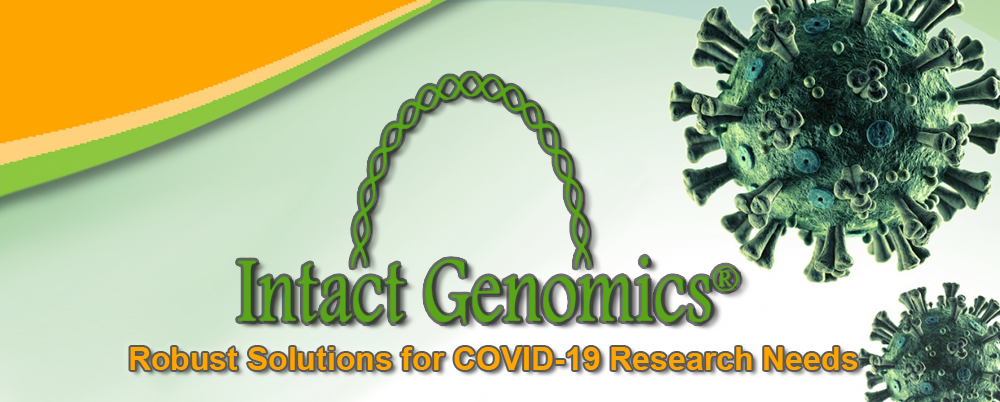 Intact Genomics is working to aid researchers in the battle against COVID-19. We provide a number of resources for researchers to fight COVID-19 including our FastAmp® Viral/Cell Solution, One Step RT-qPCR Kit for SARS-CoV-2 (COVID-19) detection, and T4 Enzymes (UvsX, UvsY, gp32, and Bsu)

FastAmp® Cell/Viral Solution
Intact Genomics has invented a truly innovative product in the FastAmp® Viral/Cell Solution. This solution can be used to directly allow the testing of saliva/swab samples by RT-qPCR, RT-isothermal DNA amplification, or any direct diagnosis kits for Covid-19 testing without the need of RNA extraction/isolation.  FastAmp® Viral/Cell Solution allows for efficient viral sample collection, processing, and SARS-CoV-2 viral RNA preparation in a single tube. Testing can be accomplished rapidly and at an affordable price.
Benefits:
No RNA extraction is needed
Safe for sample transport and maintenance
Speeds up the Covid-19 testing process
Compatible with all type of viral specimens
Compatible with different detection technologies
Increased efficiency, specificity, and sensitivity
Low toxicity to humans/environment

One Step RT-qPCR Kit for SARS-CoV-2 (COVID-19) detection
Intact Genomics One Step RT-qPCR kit for SARSCoV-2 (COVID-19) detections is used for in vitro detection of SARS-CoV-2 using Real-Time quantitative PCR (RT-qPCR). The coronavirus SARS-CoV-2 was announced as the etiological agent of cases of novel pneumonia first reported in Wuhan City, China in 2019. Infections with SARS-CoV-2 are now widespread. This Coronavirus detection kit allows efficient cDNA synthesis and qPCR in a single tube and can be used to detect SARS-CoV-2 in respiratory specimens such as sputum, nasopharyngeal, oropharyngeal aspirates, washes or swabs and tracheal aspirates.